A rare scale model of 'Big Ben' commissioned by the British Travel and Holidays Association in 1965 to promote Britain in America, is to be offered at auction. The world-recognised clock tower at the Palace of Westminster was chosen as the iconic symbol of the country abroad and
The model was to be used for promotional purposes. While the tower is known colloquially as 'Big Ben', the name actually applies to the 'Great Bell' contained within the tower but is usually extended to include the tower itself. The official name of the tower in which 'Big Ben' is located was called the 'Clock Tower', until 2012 when it was renamed the 'Elizabeth Tower' to mark the Diamond Jubilee of Her Majesty Queen Elizabeth II.
The 99.5cm high model was produced by stage designer-turned model-maker Jack Inglis in his London 'Toltec Studio' and came complete with a working clock, light and its own bespoke travelling case. The model took six weeks to make and was entirely crafted by hand from wood and paper, with hand painted finishing.
Correspondence between the Association and the sculptor details the requested specifications, such as: "I would like it accurately to scale" and "coloured as the original", with an "operative parliamentary light and clock". A Daily Express article from 1972 features the sculptor with his handcrafted model, alongside the real-life 'Big Ben' on Westminster Bridge, where he's introduced as creating 'masterpieces of realism from balsa and card.' The article goes on to say that perhaps the most flattering testimonial to his talents came from the keeper of Tower Bridge, who when shown a photograph of the model adamantly refused to believe it wasn't the real thing.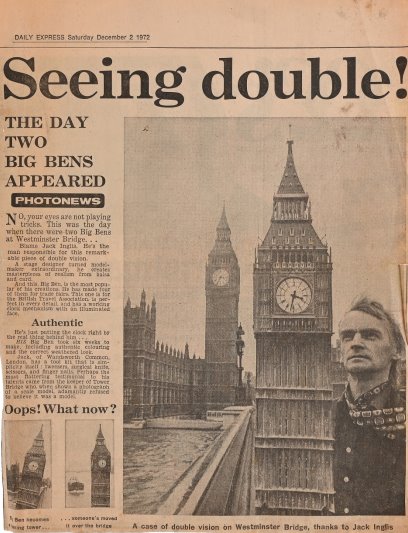 Senior Valuer, British and European Sculpture at Dreweatts, Silas Currie Leigh-Wood says: "We are delighted to offer such a fine example of model making craftmanship, depicting one of London's most iconic buildings". The model was given to the current owner directly by the sculptor for his birthday 17 years ago and has remained in its' box all of this time.
It will be offered for auction at Dreweatts in a sale titled Property from the Phillip Lucas Collection, Spitalfields House and other Properties including Garden Furniture and Statuary on December 1, 2022 and carries an estimate of £800-£1,200 (lot 655).
Image: Set Designer/model maker and sculptor, Jack Inglis making the model by hand, to the exact specifications of the real-life 'Big Ben'